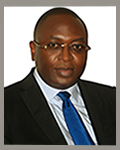 Charles Nwodo Jnr
CEO
Charles Nwodo Jnr is the founder and Group Managing Director/ Chief Executive Officer of the Group. He has a background in engineering and stock broking as well as Investment and Commercial Banking. He is an Alumnus of the University of Nigeria, Nsukka, the University of Lagos and the Harvard Business School, Boston Massachusetts respectively from where Mr Nwodo graduated with first and second degrees in Civil Engineering and Masters in Business Administration specialising in Investment Management. Mr Nwodo is a chartered stockbroker and chartered banker with professional memberships of the Chartered Institute of Stockbrokers and Chartered Institute of bankers respectively.
Mr. Nwodo Jnr, the pioneer Chief Investment Officer of Standard Trust Bank (now UBA Plc) left the bank voluntarily as the Executive Director, Corporate Services to start the XL Africa Group in 2004.
At STB/UBA, he was responsible for setting up and managing the Bank's treasury function, and developing and co-coordinating the Bank's hugely successful public sector banking initiative. Some of his last assignments in STB (now UBA Plc) include the aggressive and industry changing branch expansion programme, the direct supervision of the Bank's rebranding and corporate transformation project and co- ordination of the Bank's Initial Public Offer in 2004. Prior to his tenure at STB/UBA Mr Nwodo had practiced as an authorised dealing clerk and stockbroker at the Nigeria Stock Exchange Lagos with supervisory responsibility for daily market trading, portfolio management and investment advisory . Mr. Nwodo Jnr is widely travelled and enjoys reading, and watching football and extreme sports.
He is a Christian and associated with several religious bodies and philanthropic organizations. He is married with two children.
< Back to Team