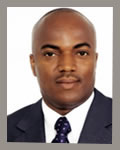 Martin Nyamali
MD, FMX Integrated Services Limited
Engr. Martin Nyamali holds Bachelor and Master's Degrees in Civil Engineering from the Obafemi Awolowo University and the University of Benin respectively. He has over 15 years work experience covering diverse areas of Civil Engineering works, Tender Preparation and analysis, Project Management, Facilities Management, Project Evaluation and Monitoring, Cost Estimation and control, as well as, Planning and Execution of complex projects.
He started his career as a Senior Engineer with Nigerian Dynamic Limited, Benin City where he worked for five years. After a four years experience with Summit International Consultants Limited, he resumed at Continental Trust Bank Limited as Head, Premises Unit in July 2001, from where he joined XL Africa Group.
Prior to being appointed Managing Director, he was General Manager, FMX Integrated Services Ltd., Martin developed and supervised the implementation of the New Business Office Roll out Programme for Standard Trust Bank, Ghana, among several other projects of reference. Martin is highly IT literate and proficient in several software and hardware applications. He is a member of the International Facilities Management Association, the Nigerian Society of Engineers, the Council for Registered Engineers in Nigeria (COREN) and the American Society of Civil Engineers. A devout catholic and IT enthusiast, Martin is happily married with Children.
< Back to Team