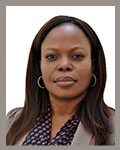 Omome Osime
MD, XL Express & Logistics Limited
Omome Osime is a multi-disciplinary professional. She is a graduate of Estate Management from the University of Lagos but has through hard work, acquired world-class competencies in property & facilities management and management of complex logistics operations over the last eight years working in large-sized organizations in the UK and Nigeria.
She started her career as a Logistics Officer in a computer firm in the UK before rising to a Manager within two years. On her return to Nigeria, she worked briefly in the Oil and Gas sector, and then joined Virgin Technology, a telecom service provider (now bought over by VGC Telecoms). An aggressive professional with a relentless passion and sound entrepreneurial attributes, she is positioned to drive and grow the logistics arm of the XL Africa Group to market leadership in line with the vision of the Group. She has a result oriented and excellent relationship management reputation within the Group.
Omome has attended numerous training programmes in various aspects of leadership and organizational integration both locally and overseas. She is a member of the Nigerian Institute of Management as well as the Nigerian-South Africa Chambers of Commerce. She is a widely travelled and sociable individual, and enjoys spending her spare time at the gym.
< Back to Team