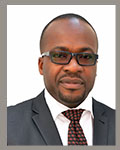 Henry Senyo Atiase
MD, XL Management Services (Ghana) Ltd
Henry Senyo Atiase is an alumnus of Kwame Nkrumah University of Science and Technology Kumasi, Ghana with a BSc. and a post graduate diploma in Architecture.
Prior to joining XL Ghana, Henry had an extensive career in the Ghana public and private sectors as a seasoned architect. His experience cuts across all key areas of Architectural practice, including Designs, Construction Management, Contract Administration, Facilities Management, Administration and Management with a very strong focus on Consultancy Services.
Upon joining XL, he started as the divisional head, Projects and Facility Management where he handled over twenty-five projects, until his appointment as the Managing Director, XL Management Services (Ghana) Ltd.
Henry is an associate member of the Ghana Institute of Architects-[AGIA]. He is happily married with two children.
< Back to Team