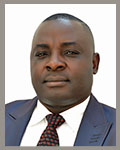 Ayuba Dantala
MD, XL Management Services (Liberia) Ltd
Ayuba Dantala holds an M.Sc , and HND in Public Policy & Administration and Business Administration from Bayero University Kano and Kwara Polytechnic Ilorin, respectively.
He worked in the Nigerian banking sector for 8 yeas and also, a Logistics & Programmes Execution environment for 2 years before joining XL Africa Group . He has extensive experience in diverse aspects of Human Resource Management. A skill set he brought to bear in XL Management Services (Liberia)Ltd since his appointment as Managing Director.
He commenced his career in XL Africa Group as the Zonal Coordinator North, before being promoted to Regional Coordinator North. He later became the Head Business Development & Marketing Support; Head of Operations and Ag GM, XL HR Outsourcing Ltd, before his deployment to XL Management Services (Liberia) Limited as the pioneer Managing Director.
An Associate member of the Nigerian Institute of Management (NIM), he is currently pursuing a Post Graduate course in International Relations at the University of Liberia. He is married with two children.
< Back to Team