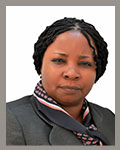 Ezinne N. Ekekwe
General Counsel/Company Secretary
Ezinne is the Company Secretary and General Counsel of XL Africa Group and, and its Nigeria and foreign subsidiary Companies. She received a Bachelor of Laws degree from Imo State University Okigwe (now known as Abia State University Uturu), and was called to the Nigerian Bar more than a decade ago. She holds a Masters degree in Law (LLM) from the University of Lagos and is an alumnus of the prestigious International Human Rights Training Program of CHRF at John Abbot College, Quebec - Canada.
Prior to joining XL Africa Group, she was the Company Secretary/Legal Adviser of Anatrade Limited after having served as Legal Adviser/Program Officer and Counsel at BAOBAB for Women's Human Rights, a non governmental organization and Obioha Jude Idigbe & Co respectively. Over the years, Ezinne has gained corporate experience through sustained professional practice spanning the non-governmental (NGO) sectors and commercial law practice and at various times , served as legal adviser and Head Solicitor, working on corporate litigation, corporate counseling and internal investigation with a focus on compliance and corporate governance.
Ezinne sits on the board of Legal Resources and Gender Development Centre; (a non-governmental organization), and serves on numerous committees of civic and civil organizations, in addition to her work at XL Africa Group. And holds memberships of the International Bar Association (IBA), the Nigerian Bar Association (NBA), the International Association of Criminal Justice Practitioners, the Chartered Institute of Personnel Management (CIPM) and the Institute of Chartered Secretaries and Administrators, Nigerian Chapter.
Ezinne is widely travelled and has written several unpublished articles on women's rights and gender equality issues, to which she has a passionate commitment.
< Back to Team